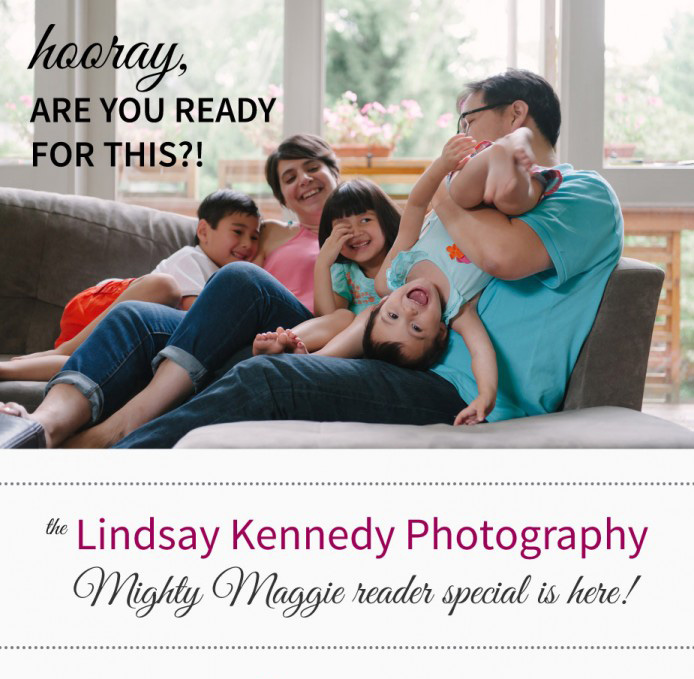 UPDATE: This special is now over, but that doesn't mean I wouldn't still love to photograph your family! Contact me to see how to get started…
I can't wait to help design your session and create something wonderful for your home! Check out all the details HERE in my Design Guide and Look Book which outlines all my service and portrait artwork offerings.
Not from the Seattle area, you say? No problem, I love to travel! With the Mighty Maggie reader special, I'm waiving out-of-state travel fees upon booking a full price session, and you'll still get 40% off your portrait order.
But winter's coming and I don't like the cold! I love love love session in clients' homes like what Maggie chose and winter is a great time to take advantage of being warm and snuggly inside for your session. Or you can still take advantage of this special by booking your session for July when it's nearly guaranteed to be sunny and warm.
What if I don't like how I look right now? I hear ya! There's no woman I know who doesn't say she'd like to lose those last 5 or 10 pounds (they're the hardest to lose, dang it!). But you're there for your kids, engaging with them, loving them, imperfections and all, and they love you for who you are. That's what they'll remember of their childhood, and what better to help them remember than a collection of loving photos of your family together. Plus clothing choices can do wonders to make you look your very best and I'm here to help with options.
Hey, Lindsay, I don't think it's in our budget right now to book a portrait session. For sure, custom photography is an investment. What you'll have in the end are amazing family heirlooms for enjoying your memories, ones that will be cherished by your children forever. How about booking a session a few months from now, giving you a chance to save up? I also offer flexible payment plans and portrait artwork at a variety of price points so you can choose what works for your family. And with this special, it's too good to pass up!
View more of my work and and gain inspiration by seeing what other families have done during their session HERE.
Not quite ready to book right now but still want to start thinking about clothing options for your best portrait ever? Download the free Style Guide with what-to-wear inspiration HERE.
I can't wait to see what amazing things we'll create together!
xoxo, Lindsay :)